Leadership Can Be Lonely, But it Doesn't Have To Be!
Unlock the Best in Yourself!
Expand Your Leadership Skills While Growing Both Personally & Professionally With My Illuminating Courses & Instructive Coaching
This is Your Chance to Gain the Knowledge & Skills You Need to Take Your Career (& Your Company) to a Much Higher Level
… in as Little as 60 Days!
The challenges being faced by today's CEOs, executives, directors and other business leaders are some of the greatest that we've seen in recent times.

Pressure is high and businesses need strong leaders who can deal with that pressure and make forward-thinking, business-benefiting decisions.

If you are at all concerned about your leadership skills … if you feel like you are constantly in "crisis-mode" and want to get out of it …

If you want to eliminate conflicts and get your business running more smoothly … if you want to gain a better work-life balance while increasing the respect others have for you …

If you want to stop feeling overwhelmed and hit your target goals … I can help!
Who Am I?
I'm Dr. David Arrington. I'm an executive coach and the COO of Arrington Coaching. Over the last 15 years I've helped hundreds of business leaders and teams overcome obstacles, grow their skills and achieve greater success.
During this pandemic I've spent a lot of time working with executives, helping them lead effectively in this "new normal".

And I'm really good at what I do.

Which is why we have so many 5-star Google reviews, Facebook reviews and so many 5 star A+ BBB ratings. It's also why we have over 50 LinkedIn recommendations and dozens upon dozens of positive testimonials.

I want to share some insights that will help you lead well under pressure.
A Place for Good Leaders
To Become Great Leaders
International Finance Corporation (IFC) reports that 80% of those who receive coaching experience increased self-confidence and that more than 70% also improve their work performance, improve their relationships and start communicating more effectively.

Here are just some of the benefits you can receive from our courses, coaching and community:
Maybe you are concerned if you really have what it takes to succeed as a leader today? Maybe you are concerned about the amount of conflict that exists in your company and you want to get a handle on it before it gets out of control?
As a member of Leading Under Pressure, you gain 24/7 access to content, community and accountability that will help you become a much better leader.
When you join you gain instant access to an ever-expanding catalog of leadership courses along with monthly coaching calls that deliver additional leadership tips along with insight for your particular situation. We also provide a Facebook group where you can ask questions and interact with other business leaders.
The courses and content we provide are designed to be immediately applicable. Plus, if any urgent questions arise you can ask them in the Facebook group from me or someone on my staff.
Your membership includes a complete leadership development platform including:
High quality courses provided in a structured format
Membership in a strong community
Expert coaching
Unique leadership-based challenges that allow you to put it all together
Accountability so that you stay on track for success
Every Leader Needs An Edge In Today's Competitive Workplace
In today's highly competitive marketplace, you need special knowledge and skills to guide your company or team to success. We provide a structured leadership development program, accountability, courses, community, and expert leadership coaching that give you a real edge.

You'll learn how to lead when the pressure is on, how to consistently make the best possible decisions no matter what the circumstances and how to grow your confidence and your leadership style so that you eliminate drama and conflicts and receive greater buy-in from employees.
Whether you want less drama in your workplace… or you want to be a part of an active leadership community where you can learn and grow... or you want to learn to handle conflict better… or you want to be able to plan ahead… or you just want to be able to go on vacation… this membership can allow you to achieve your dreams.
Leadership Insight Right at Your Fingertips
Learn from our courses, coaching and community how to:
As a member, you also receive:
FREE templates that you can use to get tasks done faster
FREE reports and workbooks that are packed with valuable information
Plus, if you sign up now you get a free coaching call (more on this in a minute)
Leadership Doesn't Have to Be Lonely
With Leading Under Pressure, you'll also gain access to expert coaching that has seen it all and that can help you overcome challenges and achieve greater success.

If you need a "sounding board" we can be there for you. If you need assistance applying certain course content to your particular situation, we can help with that as well.

At Leading Under Pressure, we understand the needs and concerns of today's business leaders and will work closely with you to ensure your success.

Our goal is to help you succeed. After all, your success truly is our success as well.

To help ensure your success, we offer both the comprehensive course content and the group coaching you need to grow as a leader as well as a unique dedication to putting you first in every aspect of our business.

When you choose Leading Under Pressure, you are selecting a partner that is dedicated to meeting your needs and providing you with superior service. Your satisfaction is our #1 priority.

We can help you:
Get the Assistance You Need to Prosper!
Just like athletes who need coaches to get them to perform to the maximum of their abilities … CEOs, executives and directors can benefit from coaching as well.

We can help you identify problem areas and improve your knowledge and skills so that you can achieve greater success. We can also help you change your mindset and your actions so that you become a great business leader.

More ways we can help:
Providing you the tools to create work/life balance on your terms
Develop a career and life plan customized for you so you can control your career path
Clarify your goals so you can be confident about your next steps
Develop deep and lasting relationships providing you a global network of executives
What if I'm Only Managing a Couple of People? What if I'm Not the CEO or President of My Company?
No matter what your current role this membership will prepare for greater leadership responsibility in the future!
This program gives you the tools to become more influential, more promotable and more valuable within your organization.
You get everything you need to improve your leadership skills, including:
Bi-monthly challenges that help you put what you learn into action
Monthly courses to improve your leadership skills fast
Monthly calls for greater insight into important leadership concepts
Daily community and accountability
Plus, you can ask questions in the Facebook group and get real-time feedback from my staff and the other participants
This Community
NOT FOR YOU

If...
This Community is

FOR YOU

If...
Never Before Has Access to Such High-Quality
Leadership Training Been Available
for Such an Affordable Fee!
With the COVID-19 Recession that is gripping the world, a highly competitive marketplace is only going to get more competitive as companies downsize and look to employ only the best of the best.

With access to our amazing collection of leadership courses, our growing leadership community, and expert coaching, you'll be able to ensure you have the training and knowledge to stand out and excel in what promises to be a rapidly evolving workplace.

Now if you need additional knowledge to guide your team or company or to qualify for a promotion or to keep a current job whose job duties are changing, you can get it quickly and easily through our online courses.

All courses are up-to-date and feature the very best instructors and content. You'll gain a real competitive advantage and you'll display a real commitment to getting ahead and to providing real value to whatever company you work for.
15-Day Money Back Guarantee
Sign Up Now & Save Money By Taking Advantage of
This Special Offer!
How much would you expect to pay for access to a proven, structured, leadership development program with a year-round community you can ask for guidance, experienced leadership coaches available to answer your questions, and wide-ranging instruction that quite literally could change your life by allowing you to advance your leadership skills and increase your value, your happiness and your earnings?

Coaching one-on-one with me would cost upwards of $20,000 a year! However you can get access to this same information for just $295 per Month!

Or

A one-time annual payment of just $2995 – that is like getting two months for free!

Plus, if you are one of the first 10 to sign up, you'll receive a free coaching call with me (Dr. David Arrington)! That's a $2,500 value!
15-Day Money Back Guarantee
THE LEADING UNDER PRESSURE COMMUNITY
To Recap Here's EVERYTHING You Get
With Your Membership!
Structured access to our Leadership Course Library, which is filled with up-to-date, cutting-edge business leadership courses
Monthly group coaching calls where you can ask questions and get additional insight on how to apply particular leadership strategies in your current situation
24/7 Group access – here you can ask questions and interact with fellow business leaders who are supportive and encouraging and eager to help you succeed. You'll have access to a group of people who likely are facing or have faced similar challenges to you and you will be able to draw upon their experience and knowledge.
Plus, remember you also regularly receive valuable leadership templates, special reports and insider tools!
15-Day Money Back Guarantee
What People Are Saying About
Arrington Coaching & LEADING UNDER PRESSURE

Monique Randolph
MCSC Public Affairs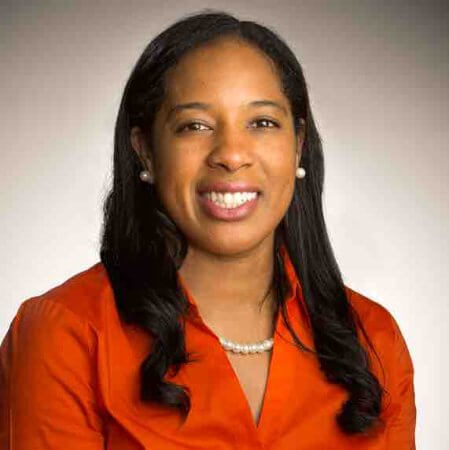 Khalilah Pitt Harrison
Executive Director
Al Wiegert
VP Media Sales
Grow Your Skills While Easing Your Stress
Like I said earlier, over the last 15 years I've worked with numerous CEOs and executive teams … and what I've seen again and again is that the impact of a CEO simply cannot be overstated.

Your role as a leader is to provide direction, guidance, clarity and motivation to your staff and reassurance, vision and results to your stakeholders.

With this membership site, I have created a safe place for executives like you to not have all the answers but to work them out – and to get help while you do that!

Also, one of the great things about this membership is the flexibility that it offers. You can take as much or as little time to process the information as you need.

You receive a new leadership development course every month that you can go through at your pace and on your schedule. Many participants listen to their course during their commutes or when they are working out.
15-Day Money Back Guarantee
This Leadership Community is
Your Chance to Go Higher

!
Our courses and coaching are all carefully designed to provide you with the knowledge you need to go to the next level.
They are filled with practical tips that will help you avoid the common mistakes less-informed leaders make – saving you valuable time and money and allowing you to discover the absolute surest path to greater professional (and personal) success.
Plus, you'll learn exactly how to put what you've learned into action to benefit yourself and your company – and since our courses are all available 100% online you will be able to begin benefiting from the expert advice and information they contain immediately!
Sign up and you could be a much better leader in as little as 60 days from now … or you can choose to not sign up and let things continue as they are now.
If you are ready to grow professionally and achieve greater success, there is really only one decision …
15-Day Money Back Guarantee
Here's the Bottom Line on This
Incredible Resource:
To continue to excel you are going to need knowledge and skills that separate you from the pack and our business courses and coaching allow you to obtain that inexpensively and conveniently.

You'll save yourself a lot of time and money by taking advantage of this offer today!
Remember, my clients pay upwards of $20,000 a year for my services but you are able to gain access now to all of this leadership training for a fraction of that price.
Join Leading Under Pressure and:
100% Satisfaction Guaranteed
More Praise for Arrington Coaching &
LEADING UNDER PRESSURE
Tolan Dyer
Business Owner
Often Asked Questions
Let's face it if you want to stay ahead of the curve, be as effective as possible, and make yourself promotable in a crowded job market you need to make the time for your personal and professional development.
The courses, community, coaching, and accountability in this program are designed for busy executives. We've gone out of our way to ensure that the content works with your schedule and doesn't add to it.
You can take the courses at your pace and on your schedule. Many participants listen to the courses while they work out or on their commute. You can ask (and answer) questions in the community 24/7 when you have time. We meet once per month because we know most schedules won't allow more frequent meetings.
You'd think so right? But it's not, is it?
You know plenty of people who do all of those things but are still crappy leaders. Reading books and blogs is fine, but there's no structure or plan behind that approach. You hear or read something that sounds good and you try to implement it. But then you move on to the next idea and nothing changes. There's no accountability and no progress.
Information alone isn't enough.
We provide information coupled with accountability and community to make real change. Which is why we offer courses, community, challenges, and accountability all in one program.
Without our structured approach, focused on implementation and execution, community-based accountability you can spend years chasing fads, burning out at work and missing out at home.
If HR's offerings met your needs, would you really be looking for alternatives? Often HR's solution for executive leadership training is hiring an executive coach. We've got that covered. Dr. Arrington is an executive coach with 15+ years of experience that we leverage throughout Leading Under Pressure.
There are several reasons Leading Under Pressure is an amazing augment to what your HR department offers. We provide you a new professional development course every month we don't just throw everything at you and hope you figure out what you need. You don't have to miss work to become a better leader.
This program works around your schedule. We provide a transformational perspective that other leaders in your organization won't have. Leading Under Pressure is built on proven leadership concepts for busy executives who need a strategic advantage.
Leading Under Pressure is designed for executives and senior leaders. Participants will vary in age, industry, and background but that's what makes the community so beneficial.
It's this diversity of thought that makes the community invaluable. You want a sounding board that can present you with fresh alternatives and perspectives.
We differ from most peer groups in a number of ways. We offer a structured leadership development path, leadership courses provided monthly, a vibrant community, access to seasoned executive coaches, and accountability so you can actually accomplish your goals.
Not to mention, Leading Under Pressure is often less expensive but with greater ROI. This program is designed to help you grow personally and professionally as you become a better leader.
Yes, but it's better.
We offer our own ASCEND Executive Leadership Certificate program so we know what we are talking about. These programs are good for what they are. A short focused class. With a beginning and end. You meet for a week or over a few months and then it's over.
When you join Leading Under Pressure you are joining a community that will be here learning and growing with you. You will have continued access to the same or similar courses, be part of a vibrant executive community, participate in monthly coaching calls, and experience an ongoing focus on implementation and execution.
There are many courses out there, but Leading Under Pressure isn't just courses. It's courses, community, coaching, and more. We've looked at the other learning options that are widely available. Most of the commercially available courses are more surveys of a topic. These courses are often 1 hour or less and don't offer much in the way of practical application.
If that's what you are looking for, then this Leading Under Pressure may not be right for you.
Our courses are real-world tested and designed to be same-day applicable.
Advantages vs Disadvantages
With this membership you gain access to:
Helped Me Put Everything Together
We've all got the basic ingredients to be successful leaders, but sometimes we needs someone to put those ingredients together for us. David, That's what you've been able to do for me.
100% Satisfaction Guaranteed
100% Satisfaction Guarantee
You are fully protected by our 100% Satisfaction-Guarantee. If you don't get [a specific benefit that your product promises] within 15 days, just let us know and we'll send you a prompt refund.
Frequently Asked Questions
We have seen marked changes in about 60 days, but it all depends on your level of effort. Everything is designed to be same-day applicable. If you do the work you will see results.
If you want to become a well-rounded, influential leader, then Leading Under Pressure is for you. This program will work if you apply yourself. We will provide the courses, coaching, community, and accountability. You will need to provide the commitment.
A structured, fully developed professional development program. Engaging personal and professional development courses, a growing and vibrant community, clarifying monthly group sessions, access to experienced executive coaches.
Yes, we have a few companies that use Leading Under Pressure as their primary leadership development program. Email us to inquire group leadership training.
This program is designed around the time deficit most executives experience. So the short answer is as much or as little as you can. Leading Under Pressure isn't about time served as much as is insights gained.
The time you invest in developing your skills is never wasted.
Yes, our refund period is 15 days. If you aren't happy with the program within 15 days of purchase, just email us and we will issue you a full refund. No questions asked. And you can stop your monthly subscription at any time.
---
100% Satisfaction Guaranteed